What FREE stuff are you looking for?
About Ziilch
About Ziilch
What is Ziilch?
Embrace a feel-good, sustainable and no-strings approach to de-cluttering and recycling with Ziilch.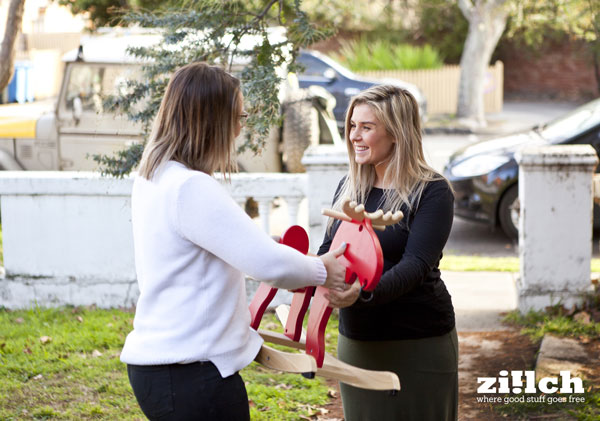 Ziilch.com.au is a free community driven website that provides Australians a way to give away items they no longer want to other people who may need them. Since it's launch, Ziilch has been visted by over 2.5 million Australians and most items listed are typically collected within hours. It's free to list items on Ziilch and it's free to take them. Ziilch encourages social responsibility and supports environmental sustainability by keeping good stuff out of landfill.
How does Ziilch work?
Become a member to request FREE stuff or give away second hand stuff you don't want anymore! Be a part of creating a "re-use" revolution!
How do I give things away in 3 easy steps?
Step One: Snap a photo with your smart phone and write a description.
Step Two: Pick someone to give it to.
Step Three: Pop it on your porch ready for collection
What stuff can I list on Ziilch?
There's heaps of stuff you can list on Ziilch and with our member base quickly expanding across Australia, you're sure to find a new home for your unwanted stuff fast. Many items listed on Ziilch are requested within minutes, so no more waiting days or weeks to get rid of your clutter.
You can give away almost anything in the below categories:
Anything Else
Art & Antiques
Automotive
Baby Care
Books / Magazines
Building Materials
Cameras
Camping / Fishing
Clothes / Maternity
Clothes / Shoes - Babies
Clothes / Shoes - Boys
Clothes / Shoes - Girls
Clothes / Shoes - Ladies
Clothes / Shoes - Mens
Collectables
Computer Consumables
Computers
Craft
Electronics

Farm Equipment & Tools
Farm Supplies
Fashion Accessories
Food
Furniture
Games
Games / Video
Garden
Health / Beauty
Hobbies
Home & Household
Home Entertainment
Industrial
Jewellery
Kitchenware
Movies / DVDs
Music
Musical Instruments
Novelty

Office
Outdoor
Party & Entertainment
Pet Supplies
Phones
Renovating
School Uniforms
Small Appliances
Software & Games
Sport / Exercise
Stationery & Supplies
Student Books
Tickets & Entertainment
Tools
Toys
Travel
Travel Goods
Weddings / Occasions
Whitegoods
There are a few items we do not allow on the site, including animals, so please see our "stuff you can't list" page and the "animals policy" page for more information.
What about donating to Charities and OpShops?
Ziilch supports charities 100%. They are fantastic organisations that help people in need and raise money for vital community projects.
Dumping of unsuitable items on Charities diverts millions of dollars a year away from helping people in need so it's important that the goods you donate are quality items and in working order. For health and safety reasons, Australian charities do place tough restrictions on what can and can't be donated, so please see this list published by the Salvation Army for examples of items not suitable for donation.
For items that are not suitable for donation, they may still be candidates to be re-used or upcycled and we urge you to keep them out of landfill by listing them on Ziilch.
Who is behind Ziilch?
The idea of a website dedicated to giving away stuff to be re-used by other people was conceived when Michelle Power, a Melbourne mother of two young children, was renovating her home in 2009. With many left over household and renovation materials destined landfill, it became clear to Michelle that there needed to be a forum to get rid of unwanted items which weren't suitable for donation. It was after many hours collaborating and working with the like-minded people, Michelle and her team were able to launch Ziilch in 2011.
We hope you enjoy and benefit from using Ziilch as much as we do!
Ziilch (pronounced "zilch" and meaning "zero, zip, nada" ) – is a like minded community of givers and receivers who care about their community and environment and value the notion that one person's clutter is another person's treasure.
Browse
for Free Stuff
Don't want to miss out on anything? Browse by category!