What FREE stuff are you looking for?
How to stop the soft toy takeover in your home!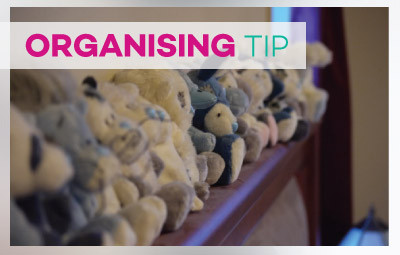 Need help to STOP the soft toy takeover?
Does your home resemble a side show alley with soft toys taking over your space? Here are three simple steps to stop the toy takeover.
Step 1. Create homes to store your soft toys
"A place for everything and everything in its place"
Allocate a space for soft toys; we call it a "home". A home can be a:
tub
chest
shelf
drawer
draw string bag
string bags
stackable containers
a repurposed suitcase
a cupboard
nets
ropes to clip using pegs or velcro.
Add labels to the "home"; you can make your own and get the kids involved. Great for littlies learning to read or draw!
Step 2. Set limits
Our homes do not come with elastic sides; we need to set limits on everything we bring into the space.
One in one out
Once the space set aside for soft toys is filled; it is time to bring in the one in-one out rule. This may not come easy to stick to, but either is living in side show alley.
Once you have decided which toy is to go, it must be removed from the house immediately.
Step 3. How to let go
This may seem hard but by following these four sorting steps you will halve you problem in no time.
Sort all the soft toys into:
Favourites and special toys
Like
Oh it is ok
Yuk I don't like it
1. Favourites and special toys
These are no questions to be asked toys; you and your children will know which ones they are. These hit you in the heart with a special feeling and are not considered clutter.
2. Like
Toys that the children like should also be kept.
3. Oh it is ok
If you children say "oh it is ok" grasp this opportunity and pass on.
Your children may have grown out of this toy, but could suit someone else's child perfectly.
4. Yuk I don't like it
When the children say "yuk I don't like it" there should be no reason to hold onto it. Before passing them on, check the condition of all the toys, don't give away broken, torn or worn out toys. Consider repairing ones that are worth repairing and pass them on.
To the Parents
The children are sorted but how about the parents that struggle with letting go of the soft toys?
For those toys that hold memories for you, why not take a photo of them and frame it, you can hold onto the memory without the clutter, because remember our homes aren't made with elastic sides.
We hope you like these tips to help organise your kids lego and clutter. It is brought to you by our guest contributor, Tanya Lewis. Tanya is the creator of The 10 R's© Eco Organising Solution. View Tanya's Profile for more information and workshop dates.

---
Image credit: "Day Forty Five – Blue Nose Friends, Collect Them All" by Yortw, used under CC BY / Typography added to original
Share this page:
Browse more FREE stuff on Ziilch:
---