What FREE stuff are you looking for?
We all love Free Stuff but who can't resist a great sale too!!
huge sale.... 40% off Australia's largest range of cosmetics. Brands include Maybelline, L'Oréal, Rimmel, NYX, Revlon, Nude by Nature, Covergirl, Australis and many more. Click here to get access to 40% off now!
23/3/2017 - Today Priceline is have a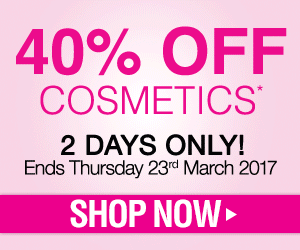 Current Sales! Up to 20% off, 40% off, 50% off!

We know how much our Ziilch community loves FREE stuff, but we also know how much you enjoy a great bargain!
We've put this page together to help you find in-store and online sales from top Australian retailers and sites.
Click through the offers below to access discounted prices for: furniture sales, beauty and fashion sales, homeware, electrical / appliance sales and more!
Beauty / Cosmetic Online and in-store sales
Priceline is currently offering the following sales with up to 40% off top brands!
Retail Deals - All Categories
Catch of The Day
currently have some amazing sales and deals across Kids, Fashion, Beauty, Home and Electronics.
There's always a great deal to be had!
Here's some of our current favourites we think you'll like:
Dog & Cat Shop - Up to 50% off big brands such as Purina, Pedigree, Frontline & more
Back to School Bargains - From $3.00!
Designer Sunglasses - up to 74% off!
Map Premium Coffee Beans - 60% off!
500 Grocery Deals - BIG brands for less!
40+ deals on Nike Kids Footwear
Massive discounts on Adults top brand sneakers including Nike, ASIC, New Balance, Puma + more!
Check out all the deals here:
* Deals were current at time of publishing, check out Catch of The Day for current deals!
Furniture Sales
Fantastic Furniture is currently have some amazing offers:
20% off selected Mattresses
10% off selected King Single Beds
10% off Art, Cushions, Mirrors and Screens
10% off Buzz Storage Range
Check out the current sale by clicking below.
Share this page:
---
Browse
for Free Stuff
Don't want to miss out on anything? Browse by category!