What FREE stuff are you looking for?
Garage Sales
Garage sales near me.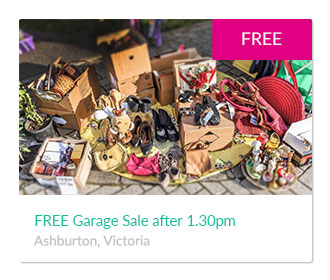 Garage Sales where people are giving away FREE stuff!
List your free Garage Sale on Ziilch and let people know when everything is free to take.

With free garage sale advertising, Ziilch is Australia's best online platform to get rid of all your stuff after a Garage Sale.
Looking for garage sale tips?
Check out our article "How to have a successful Garage Sale".

Share this page:
Browse FREE stuff on Ziilch:

Browse
for Free Stuff
Don't want to miss out on anything? Browse by category!